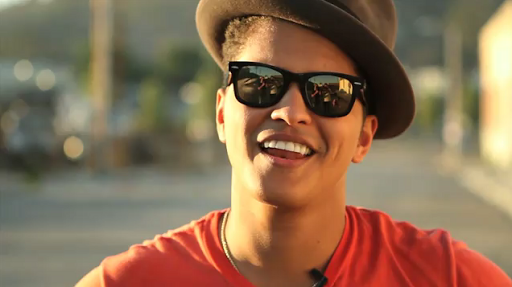 The star of Bruno Mars was lit in 2010 with the release of his hit song "Nothin' on You". Earlier Mars had already begun to find success by writing songs for several popular artists, including Flo Rida's hit "Right 'Round," Brandy's "Long Distance" and Travie McCoy's "Billionaire." Mars also co-wrote K'Naan's theme song for the 2010 FIFA World Cup. Bruno Mars has received many awards and nominations, including two Grammy Awards. In 2014, he was named "Artist of the Year" by Billboard and ranked #1 on the Forbes 30 under 30 list. Mars has become one of the world's best-selling artists of all time, having sold over 11 million albums and 68 million singles. Let's see what the top rates songs by Bruno Mars are popular nowadays. Check our top 10 list.
#10 Gorilla (2013)
#9 Treasure (2013)
# 8 It Will Rain (2011)
#7 Nothin' On You feat. B.o.B. (2010)
#6 Billionaire feat. Travie McCoy (2010)
#5 The Lazy Song (2011)
#4 When I Was Your Man (2013)
#3 Locked Out Of Heaven (2012)
#2 Grenade (2010)
#1 Just The Way You Are (2010)
Download all these songs in MP3 with Free MP3jam.