WHY MP3JAM?
Here are top 8 reasons why you should use
MP3jam to download music.

MP3JAM IS

FREE
MP3jam is the only MP3 downloader with the access to 20+ million songs which you can search, listen to and download for free.

MP3JAM IS

SECURE
You'll never get into trouble using MP3jam, as it provides only safe and legal YouTube MP3s available in open access.

MP3JAM IS

MULTI-PURPOSE
You can download single music tracks or entire MP3 albums. There are one-click download options for every music search result.

MP3JAM IS

SUPER-FAST
The software is optimized for fast YouTube music search and download, so you can save any track or album in seconds.

MP3JAM IS

EASY
No need to visit YouTube and copy links of music videos. MP3jam finds and downloads YouTube MP3s directly in the program.

MP3JAM IS

SMART
Because MP3jam filters out irrelevant audio tracks, you'll find only best MP3 songs sorted by newest and most popular.

MP3JAM IS

HIGH-QUALITY
No need to preview all music to choose tracks for high-quality MP3 download - MP3jam finds the best audio quality by default.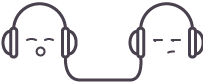 MP3JAM IS

SOCIAL
MP3jam is both online music downloader and music player from where you can share your favorite music in Twitter and Facebook with your friends.