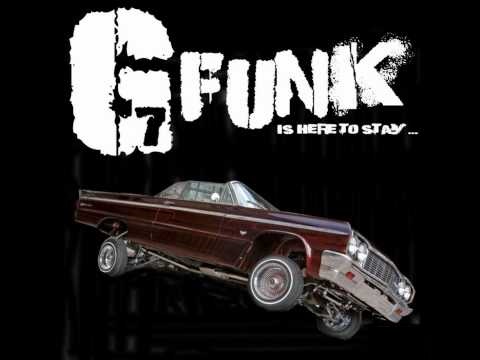 G-funk, or gangsta-funk, is a sub-genre of hip hop music emerged in the USA in 1990's. Some sources also assign g-funk origin to Dr. Dre after the success of his 1992 album "The Chronic". Distinguished by its whiny, cheap synthesizers, slow grooves, deep bass, and faceless female backing vocals, G-funk became and remains one the most popular genre of hip-hop culture. Let's see the top g-funk songs of all the time. 
 #10 Lost Boyz – Love, Peace And Nappiness
#9 Warren G – Regulate ft. Nate Dogg
#8 Eazy E – Only If YOu Want It
#7 Above the Law – Who Ryde
#6 Tupac – Me Against The World
#5 Dr Dre – Nuthin' But a G Thang ft. Snoop Dogg
#4 N.W.A. – Alwayz Into Somethin'
#3 Ice Cube – You know how we do it
#2 Snoop Dogg – Ain't No Fun
#1 Dr. Dre – The Doctor's Office
You may download all those songs with Free MP3jam YouTube MP3 Downloader.